iTero Scanning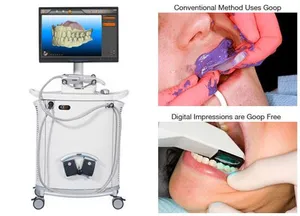 iTero is a scanning computer that replaces old fashioned Goopy impressions.
No more gagging. No more foul tasting Goop. No more re-takes.
iTero brings Digital Scanning to Dentistry. Faster. More Accurate. More comfortable. Images can be easily sent electronically.
Accuracy….Speed….Comfort
The iTero Scanner producers an accurate image of your teeth and the creates a simulation of what your teeth wiil look like after your Invisalign Treatment. You and Dr Pyle can even adjust and customize the simulation to explore variations. We send the iTero Digital Scan to Invisalign electronically. Dr Pyle and his Invisalign technicians then create the actual outcome with software called ClinCheck.
iTero can also scan teeth prepared for Crowns or Bridges. The images produced are far more accurate than old fashioned Goop Impressions. They are also sent to our labs electronically