My Blog
Posts for tag: nutrition
By Orlando Dental Group P.A.
November 04, 2019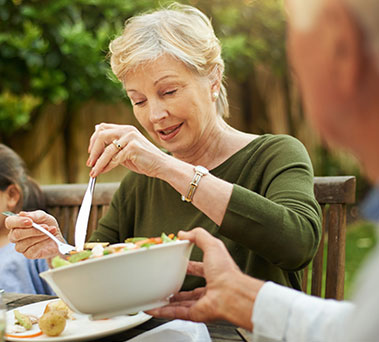 As with most Western countries, we in the U.S. love our carbs. While fats and proteins make an appearance in our diets, many of us go full-tilt on sugars, starches and fibers.
Regardless of what some diet gurus say, we do need these organic compounds to generate energy for our cells. But carbs can also fuel inflammation: This is a mechanism in the body that isolates and protects healthy tissues from damaged tissues or toxins. Chronic inflammation, though, contributes to systemic conditions like diabetes, heart disease and, yes, gum disease.
And it's not just a matter of too many carbs in your diet. Not all carbs are equal: Some can actually stimulate inflammation, making conditions like gum disease worse. Others, though, might actually help decrease inflammation.
So, in terms of your gum health in particular, how do you know which carbs are better for you and which are worse?
It depends on their ranking on the glycemic index, a measure of how fast the body digests a particular carbohydrate to form glucose, the blood sugar that fuels our cells. The faster the digestion (higher on the glycemic index), the more likely they'll overload the bloodstream with glucose, requiring the release of the hormone insulin to bring the levels back to normal. Continuous insulin increases ultimately lead to higher inflammation.
High glycemic foods include those with added sugar, bakery items made with white flour, white rice or mashed potatoes. But there are also carb foods low on the glycemic scale—most vegetables, greens, beans, nuts and whole grains—whose slower digestive rates avoid the big blood sugar spikes and excessive insulin—and actually hinder inflammation.
So, if you want to control inflammation, reduce your consumption of high glycemic foods like chips, French fries, cookies and similar items. Instead, eat low glycemic foods like apples, bulgur wheat products, oatmeal, and other fruits, vegetables, legumes and nuts.
In short: steer clear of processed foods with added sugar, and indulge yourself in fresh "real" food. These also have the added bonuses of minerals, vitamins and antioxidants that keep your body functioning normally. And that can also make a big difference toward keeping your gums healthy and disease-free.
If you would like more information on diet and dental health, please contact us or schedule an appointment for a consultation. You can also learn more about this topic by reading the Dear Doctor magazine article "Carbohydrates Linked to Gum Disease."
By Orlando Dental Group P.A.
October 14, 2017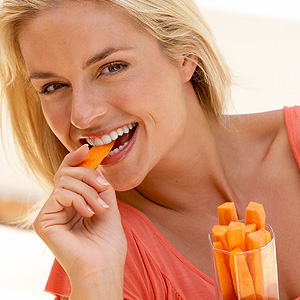 Your diet can play as important a role in your dental health as brushing and flossing. What you eat (particularly sugar) could increase your risk of tooth decay despite your hygiene habits. And vice-versa: a nutritious diet may help boost your preventive efforts even more.
Let's look at two very different approaches to diet and see how your dental health is likely to fare under each.
A High Sugar/Low Fiber Diet. Modern western diets heavy with processed foods are inundated with two particular types of refined sugars. The first is sucrose, which comes mainly from either beets or sugar cane. Foods (and beverages) may also contain a refined sugar from corn known as high fructose corn syrup. Refined sugars are added for taste to thousands of products like cake, candy, soft drinks or even condiments like catsup. These "free" sugars are easily processed by bacteria into acid. Combine that with fewer fibrous vegetables in the diet and you have a recipe not only for obesity and other health issues, but tooth decay as well.
A High Fiber/Low Sugar Diet. Fruits and vegetables make up a large part of this kind of diet, while added free sugars much less so. That doesn't make this diet sugar-free: all plant products contain simple sugars produced by photosynthesis. The difference, though, is that these sugars — glucose, fructose and sucrose (natural, not the refined versions) — are more slowly absorbed into the bloodstream during digestion because of the fiber content of fruits and vegetables. You'll also receive other nutrients like vitamins and minerals necessary for good health. Eating this kind of diet will help decrease the risk of tooth decay.
So there you have it: eat more fresh fruits and vegetables and restrict your intake of processed foods and sweets. You may also want to fine-tune a few items to maximize decay prevention: for example, eat starches in their natural form (whole grains, beans or certain fruits) as much as possible rather than refined or in combination with added sugar (cakes, cookies, etc.). And while fresh fruits with their naturally occurring sugars aren't a significant factor in tooth decay, dried fruits (especially with added sugar) might.
Bon appétit!
If you would like more information on proper diets for better oral health, please contact us or schedule an appointment for a consultation. You can also learn more about this topic by reading the Dear Doctor magazine article "Nutrition & Oral Health."
By Orlando Dental Group P.A.
July 30, 2014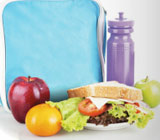 There's a new focus on children's nutrition by both parents and schools; in fact, many school districts have instituted policies that encourage children to eat more nutritional foods and snacks. Regarding snacks in particular, the United States Department of Agriculture (USDA) recently released new regulations for the Smart Snacks in Schools Initiative that call for more whole grains, fruits and vegetables and less fat, sugar and salt in snack foods.
These regulations will help fight obesity and related medical problems like diabetes, but many dentists don't believe they go far enough in one particular area — the consumption of sugar, a major cause of tooth decay. Dentists also feel the guidelines are too generous in the amount allowed for highly acidic beverages like sodas, ice tea, sports drinks and energy drinks that increase the risk of enamel erosion and tooth decay.
You may also be concerned about how much sugar your child is eating, and for the most part you're able to manage their intake when they're at home. But what can you do to influence their snack choices and habits when they're at school?
For one thing, get involved with your child's school and with other parents. Let school officials know your concerns about the sugar, fat and salt content of the snacks offered in the school's vending machines and food service, and work to implement policies that discourage less nutritional snack foods. You should also set limits for your children about what snacks they can buy at school — along with explaining why they should avoid certain kinds of snack foods in favor of others. And, be sure to send healthy snacks along with them when they go to school that are bite-sized and fun.
It's also important to help your children limit how often they snack and avoid "grazing" — nibbling on snack food for hours on end. Grazing can cause the mouth to be continuously acidic and never allow saliva an opportunity to neutralize the acid. You can also suggest similar policies to school officials, such as shutting down vending machines at certain times of the day.
Nutrition is essential to good health, in the mouth as well as the rest of the body. As a parent, it's your job to see that your children eat nutritiously — enlisting their schoolâ??s help will make that job a little easier.
If you would like more information on dental-friendly snacking, please contact us or schedule an appointment for a consultation. You can also learn more about this topic by reading the Dear Doctor magazine article "Snacking at School."