My Blog
Posts for: October, 2020
By Orlando Dental Group P.A.
October 19, 2020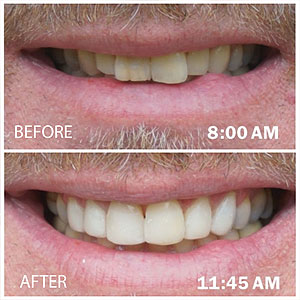 Orthodontics, veneers and other cosmetic dental techniques can turn a less than perfect smile into a beautiful one—but not always very quickly. For example, porcelain veneers can take weeks from planning to installation, including the meticulous work of an outside dental lab to produce veneers that look natural as well as beautiful.
But you may be able to take advantage of another approach, one that often takes no more than a couple of dental visits. Called direct veneers, it's actually a process of bonding and sculpting life-like composite materials to teeth that are heavily stained, chipped or that contain tiny crevices called "craze lines."
Unlike the similarly-named traditional method, direct veneers don't involve the creation of layered porcelain veneers fashioned by a dental lab. But this newer process is similar to the older one in that some of the enamel must be removed from the teeth in question to provide a suitable surface for the composite material to adhere. This alteration will be permanent, requiring a restorative covering on the treated teeth from then on.
Right before this preparation, though, a dentist typically makes an impression of the patient's mouth. This will be the basis for creating the procedural plan for the dental work, particularly a "trial smile" from similar composite material that can be applied to the patient's teeth before actual restoration work begins. This temporary application gives both patient and dentist an opportunity to visualize the final look, and make needed adjustments in color and shaping.
Once the work plan is finalized, the patient then returns for the actual restoration procedure. The dentist begins by applying and bonding the composite material to the prepared teeth. Then, using a drill and manual instruments, the dentist shapes and smooths the material into a tooth-like appearance that blends with other teeth. The procedure can take a few hours, but it can usually be completed during a single visit.
Although direct veneers may not last as long as porcelain veneers, the process is less costly and requires less time to complete. Direct veneers could be an economical solution for achieving a more attractive smile.
If you would like more information on direct veneers, please contact us or schedule an appointment for a consultation. You can also learn more about this topic with a firsthand patient account by reading the Dear Doctor magazine article "A New Smile With Direct Veneers."
By Orlando Dental Group P.A.
October 09, 2020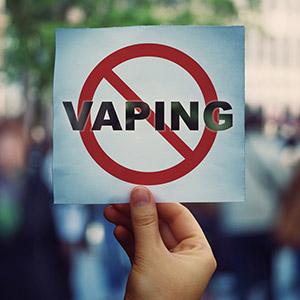 E-cigarettes have taken the world by storm, especially among younger adults. The reason: the widespread perception that "vaping" is healthier than smoking tobacco.
But a deeper look at this wildly popular habit reveals a product that doesn't live up to its reputation as smoking's "safer alternative." One aspect of health that's especially in harm's way is the mouth: Teeth and gums could in fact be just as prone to disease with an e-cigarette as the tobacco variety.
E-cigarettes are handheld devices that hold a cartridge of liquid vaping product, which is then heated to produce an inhalable vapor. Technically, it's an aerosol in which solid chemical compounds within the vaping liquid are suspended in the vapor. The aerosolized vapor thus serves as a transporting medium for these chemicals to enter the user's body.
It's these various chemicals inhaled during vaping that most concern dentists. Top on the list: nicotine, the addictive chemical also found in regular tobacco. Among its other effects, nicotine constricts blood vessels in the mouth, causing less blood flow of nutrients and infection-fighting cells to the gums and teeth. This not only heightens the risk for gum disease, but may also mask initial infection symptoms like swelling or redness.
Flavorings, a popular feature of vaping solutions, may also contribute to oral problems. These substances can form new chemical compounds during the vaping process that can irritate the mouth's inner membranes and trigger inflammation. There's also evidence that e-cigarette flavorings, particularly menthol, might soften enamel and increase the risk of tooth decay.
Other chemicals commonly found in vaping solutions are thought to increase plaque formation, the sticky film on teeth that is a major cause for dental disease. And known carcinogens like formaldehyde, also included in many formulations, raise the specter of oral cancer.
These are just a few of the possible ways vaping may damage oral health. Far from a safe tobacco alternative, there's reason to believe it could be just as harmful. The wise choice for your body and your mouth is not to smoke—or vape.
If you would like more information on the oral hazards of e-cigarettes, please contact us or schedule an appointment for a consultation. You can also learn more about this topic by reading the Dear Doctor magazine article "Vaping and Oral Health."