My Blog
Posts for: April, 2019
By Orlando Dental Group P.A.
April 18, 2019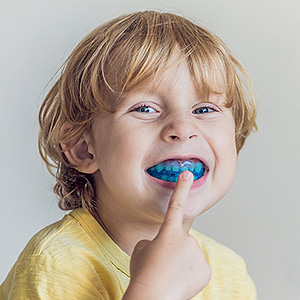 April brings the perfect weather to get outside and play. Fittingly, April is also National Facial Protection Month. Whether you prefer softball or basketball, skateboarding or ultimate frisbee, don't forget your most important piece of equipment: a mouthguard to protect your face and your smile!
In an instant, a blow to the mouth can cause a dental injury that is painful to endure and expensive to treat. In just about any sporting activity, your mouth could come into contact with a piece of equipment, another person or the ground. That's why the American Dental Association and the Academy for Sports Dentistry recommend using a mouthguard when participating in any of over 30 activities, including some that aren't typically considered contact sports, like volleyball and bike riding.
Common sense, observation and scientific research support the use of mouthguards during sporting activities—but are the ones you get from your dentist really any better than the kind you can grab off the shelf at a sporting goods store or drugstore? The answer is yes!
In a 2018 experiment, researchers created a model of the human head to test how direct impact affects the teeth, jaws and skull. They compared the effects of impact when using no mouthguard, when using a custom-made mouthguard available from the dentist, and when using a stock mouthguard. They also tested mouthguards of different thicknesses. The results? The experimenters determined that any mouthguard is better than no mouthguard and that custom mouthguards available from the dental office are more effective than off-the-shelf mouthguards in protecting teeth, jaws and skull from impact. They also found that the thicker the mouthguard, the better the protection.
Although custom mouthguards are more expensive than the kind you can buy at the corner store, the difference in protection, durability, comfort and fit is well worth the investment. We consider your (or your child's) individual needs, take a precise model of your mouth and provide you with a custom-fit mouthguard of the highest quality material.
Don't ruin your game. A mouthguard can go a long way in protecting your teeth and mouth from injury. If you would like more information about a sports mouthguard, please contact us or schedule an appointment for a consultation. To learn more, read the Dear Doctor magazine articles "Mouthguards" and "An Introduction to Sports Injuries & Dentistry."
By Orlando Dental Group P.A.
April 08, 2019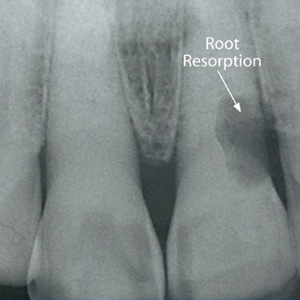 As your dental provider, we're always alert for signs of tooth decay or periodontal (gum) disease, the two leading causes of tooth loss. But we're also watching for less common conditions that could be just as devastating.
Root resorption falls into this latter category: it occurs when a tooth's root structure begins to break down and dissolve (or resorb).  It's a normal process in primary ("baby") teeth to allow them to loosen and give way when permanent teeth are ready to erupt.
It's not normal, though, for permanent teeth. Something internally or—more commonly—externally causes the root structure to break down. External resorption usually occurs at the neck-like or cervical area of a tooth around the gum line. Known as external cervical resorption (ECR), it can first appear as small, pinkish spots on the enamel. These spots contain abnormal cells that cause the actual damage to the root.
We don't fully understand how root resorption occurs, but we have identified certain factors that favor its development. For example, it may develop if a person has experienced too much force against the teeth during orthodontic treatment. Injury to the periodontal ligaments, teeth-grinding habits or some dental procedures like internal bleaching may also contribute to later root resorption.
Early diagnosis is a major part of effective treatment for root resorption. Because it's usually painless and easily overlooked, resorption is often too difficult to detect in its early stages without x-rays—a good reason for regular dental exams. Beginning spots or lesions are usually small enough to surgically remove the tissue cells causing the damage and then filled with a tooth-colored filling material. If it has advanced further, we may also need to perform a root canal treatment.
At some point, the damage from root resorption can be too great, in which case it might be best to remove the tooth and replace it with a dental implant or similar restoration. That's why catching root resorption early through regular dental exams can give you the edge for saving your tooth.
If you would like more information on diagnosing and treating root resorption, please contact us or schedule an appointment for a consultation. You can also learn more about this topic by reading the Dear Doctor magazine article "Root Resorption: An Unusual Phenomenon."