My Blog
Posts for: September, 2014
By Orlando Dental Group P.A.
September 24, 2014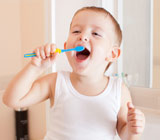 Caring for a young child can be overwhelming at times. Sometimes, it may feel like you can't read enough books to learn the correct way to do everything from potty training to feeding. It's also important to teach your child healthcare habits during these crucial years, so that they continue these habits for a lifetime!
Here are a few simple ways you can help your child to institute lifetime oral care habits.
DO: Encourage your Child to Brush Every Day with Fluoride Toothpaste. Fluoride will help make your child's teeth more resistant to tooth decay. You should use a thin smear of fluoride toothpaste for children under age two and a pea-sized amount for older children. At age two, you can also begin empowering your child to brush, but make sure that you supervise and finish the job. Your child will probably need your help until around the age of six.
DON'T: Share your Germs. Did you know that children are not born with the bacteria that cause tooth decay? In fact, the bacteria are transmitted to them from adults! You should never share a cup or spoon with your child. Also, next time you kiss your child, kiss him or her on the cheeks instead of the lips. Believe it or not, you can transmit harmful bacteria through this quick little kiss.
DO: Limit your Child's Sugar Intake. When your child consumes sugar, the bacteria use the sugar to produce acids that dissolve tooth enamel, eventually leading to tooth decay. Saliva can neutralize those acids, but it needs enough time, 30 to 60 minutes, to work its magic. That is why it is important to limit sugar intake between meals.
DON'T: Give Your Child a Bottle at Night. Juice, milk and even breast milk contain sugars that promote tooth decay, in particular during sleep, when less saliva is being produced. So, though it may be tempting, do not let your child go to bed with a bottle.
DO: Take your Child to the Dentist Early. The American Academy of Pediatric Dentistry recommends that all children have their first dental visit by the age of one. Your toddler will benefit from regular dental visits, because we will monitor tooth decay, correct brushing techniques and also, most importantly, ensure that he or she is comfortable in the dental chair.
DON'T: Allow your Child to Suck His or Her Thumb Past Age Three. Thumb sucking for comfort is a very normal behavior for babies and toddlers. However, if your child constantly sucks his or her thumb past the age of three, it can affect teeth alignment and jaw development.
If you would like more information about oral care for your child, please contact us or schedule an appointment for a consultation. You can also learn more by reading the Dear Doctor magazine article "Dentistry and Oral Health for Children."
By Orlando Dental Group P.A.
September 09, 2014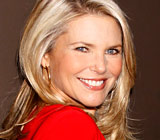 Christie Brinkley's world-famous smile has graced the covers of countless magazines for over 30 years. In fact, in her own words from an interview with Dear Doctor magazine, the supermodel said, "I think my smile was really my passport to success in the modeling industry." And while most of her smile's appeal comes naturally, Christie does give it a boost with good oral hygiene, regular dental checkups and tooth whitening. As Christie says, "When it comes to teeth, keep it as natural as possible. Do not go overboard on whitening. You want your teeth to compliment your face…your friends should not be required to wear sunglasses when you smile!"
Aside from some potential minor side effects such as tooth sensitivity, whitening teeth through bleaching is a relatively inexpensive way to brighten your smile conservatively and successfully. There are three common methods, as described below:
An external or vital approach where "vital" (living) teeth are bleached through direct contact to the tooth's surface.
An internal or non-vital approach where the tooth is whitened from the inside during a root canal treatment.
A combination approach in which both internal and external bleaching techniques are used.
But what causes teeth to become discolored?
Tooth discoloration can be caused by a traumatic blow to your teeth resulting in nerve tissue (pulp) death. However, there can be many other causes: consuming or using products that stain the teeth such as coffee, tea, cola, tobacco products and red wine, to name just a few. Aging is another factor, as it results in changes in the mineral structure of the tooth as the enamel, the outermost layer, loses its beautiful and youthful translucency. Other causes include exposure to high levels of fluoride; tetracycline, an antibiotic, administered during childhood; inherited developmental disorders and jaundice in childhood; and tooth decay.
The good news is that we routinely brighten smiles through tooth whitening. To learn more about brightening your smile, continue reading the Dear Doctor magazine article "Teeth Whitening." Or if you are ready to have your teeth professionally whitened, contact us today to schedule an appointment so that we can conduct a thorough examination and discuss your whitening treatment options. And if you want to read the entire feature article on Christie Brinkley, continue reading "The Secret Behind Christie Brinkley's Supermodel Smile."