My Blog
Posts for: July, 2014
By Orlando Dental Group P.A.
July 30, 2014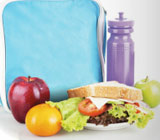 There's a new focus on children's nutrition by both parents and schools; in fact, many school districts have instituted policies that encourage children to eat more nutritional foods and snacks. Regarding snacks in particular, the United States Department of Agriculture (USDA) recently released new regulations for the Smart Snacks in Schools Initiative that call for more whole grains, fruits and vegetables and less fat, sugar and salt in snack foods.
These regulations will help fight obesity and related medical problems like diabetes, but many dentists don't believe they go far enough in one particular area — the consumption of sugar, a major cause of tooth decay. Dentists also feel the guidelines are too generous in the amount allowed for highly acidic beverages like sodas, ice tea, sports drinks and energy drinks that increase the risk of enamel erosion and tooth decay.
You may also be concerned about how much sugar your child is eating, and for the most part you're able to manage their intake when they're at home. But what can you do to influence their snack choices and habits when they're at school?
For one thing, get involved with your child's school and with other parents. Let school officials know your concerns about the sugar, fat and salt content of the snacks offered in the school's vending machines and food service, and work to implement policies that discourage less nutritional snack foods. You should also set limits for your children about what snacks they can buy at school — along with explaining why they should avoid certain kinds of snack foods in favor of others. And, be sure to send healthy snacks along with them when they go to school that are bite-sized and fun.
It's also important to help your children limit how often they snack and avoid "grazing" — nibbling on snack food for hours on end. Grazing can cause the mouth to be continuously acidic and never allow saliva an opportunity to neutralize the acid. You can also suggest similar policies to school officials, such as shutting down vending machines at certain times of the day.
Nutrition is essential to good health, in the mouth as well as the rest of the body. As a parent, it's your job to see that your children eat nutritiously — enlisting their schoolâ??s help will make that job a little easier.
If you would like more information on dental-friendly snacking, please contact us or schedule an appointment for a consultation. You can also learn more about this topic by reading the Dear Doctor magazine article "Snacking at School."
By Orlando Dental Group P.A.
July 15, 2014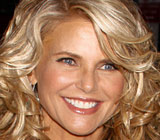 Model Christie Brinkley's smile has been a symbol of America's optimism since the seventies. Particularly well known for being the cover model for three consecutive Sports Illustrated Swimsuit editions, Brinkley still has a fresh-faced American girl-next-door beauty that starts with her cheerful smile, which transmits the message that all is well.
Brinkley's modeling career began when she was "discovered" in Paris in the seventies, at the age of 18. As she explained in an interview with Dear Doctor magazine, it was like a fairy tale. She had gone to study art in Paris, where a fashion designer spotted her walking down the street. "He told me later he immediately thought, 'That's the girl!'" she said.
Brinkley attributes her famous smile to a combination of good genetics (she inherited her mother's "beautiful straight teeth"), combined with the intelligence to practice good oral hygiene and have regular dental appointments. She never needed to have work done to prepare her for the modeling life; but as a teenager, she said, she wished she could wear braces because she thought the "coolest kids had them."
Although dental restorations were not needed to enhance her beautiful natural smile, she did have two dental implants after she fractured two rear molars in a bad helicopter crash while back-country skiing, and she says she is thankful for dental implant technology because it looks and feels so natural.
Brinkley said that her smile led directly to her assignment as spokesperson for a brand of oral rinse and mouthwash products. She is also concerned about the environment. Her company Christie, Inc. is designing environmentally friendly products.
Her advice to everyone is to smile more. "I think a smile makes EVERYONE beautiful! It's the greatest gift we give each other... It's an expression of friendship, love and peace!"
If you have questions about your smile, contact us today to schedule an appointment. Or you can learn more by reading the Dear Doctor magazine article "Christie Brinkley's Supermodel Smile."