My Blog
Posts for: December, 2013
By Orlando Dental Group P.A.
December 24, 2013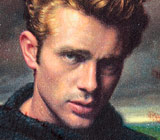 Imagine how different things would have been for movie star James Dean, had he not managed to replace the front teeth he lost as a youngster. According to one biography of the 1950s heartthrob, Dean's teeth were knocked out while he was swinging around on a homemade trapeze. Because his smile was restored, Dean was able to land the plumb movie roles that catapulted him to stardom.
This is perhaps the ultimate example of how a smile makeover can create new opportunities for a person. But opinion polls confirm that nearly 90% of adults feel an attractive smile is an important social and career asset. And, an almost equal percentage of adults feel that their smile could use some improvement.
Are you unhappy with your smile? Is a smile makeover something you've ever thought about? Dear Doctor magazine has come up with a great list of questions you can ask yourself to figure out if you would benefit from this life-changing experience:
Do you avoid smiling in photos?

Are you conscious about spaces and gaps in your teeth?

Are your teeth making you look older than you feel?

Have you held back a smile?

Do you feel that your teeth are stained or too yellow?

Do you hold your hand up in front of your mouth when speaking or laughing?

Do you notice areas of excessive tooth wear that make your smile look older?

Do you have little teeth and a gummy smile?

Are your teeth crooked, chipped or crowded?

Do you wish you had someone else's smile?
If you answered "yes" to any of these questions, please come in and see us. We have an amazing array of cosmetic procedures available to us — far more than what was available to James Dean in the 1950s. These options range from relatively inexpensive teeth whitening treatments to more permanent cosmetic solutions such as porcelain crowns and veneers. Together we can come up with a plan to give you the smile you've always dreamed about.
If you would like more information about what a smile makeover could mean for you, please contact us or schedule an appointment. You can learn more about smile makeovers by reading the Dear Doctor magazine article "Beautiful Smiles by Design." Dear Doctor also has more on "The Impact of a Smile Makeover."
By Orlando Dental Group P.A.
December 10, 2013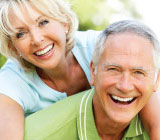 If you have lost your natural teeth, you may already have heard that dental implants are the best option for tooth replacement. Unlike removable dentures or bridgework, implants actually fuse to your jawbone — providing lifetime support for a full set of great-looking replacement teeth. But you may not know that for many people without teeth, it's possible to receive an entire set of new implant teeth in just one surgical appointment!
Here are the steps:
Initial Consultation — We will assess your existing condition with the help of x-ray imaging. CT scans allow us to see the jawbone in three dimensions, which is particularly helpful for planning implant treatment. These scans provide critical information about anatomical structures such as bone, sinuses and nerves, and help us determine the ideal location for the implants as we design your new smile.
Implant Surgery — The surgery to place implants is actually minor and routine. If you need to have any failing teeth removed, we will do that first. Depending on the quality of your tooth-supporting bone, you may need as few as four or, at most, eight implants in each jaw (upper and lower) to replace all of your teeth.
Temporary Teeth — If the bone in your jaw is healthy and strong enough, we can immediately attach temporary acrylic replacement teeth to the implants so that you can leave the office with teeth the same day as your implant surgery! Once you have fully healed, we will replace your temporary teeth with permanent ones.
Healing — During the first 6-8 weeks after surgery, you"ll need to go easy on the new teeth, avoiding chewy or tough foods so that the implants remain stationary as they complete the process of fusing to your jawbone. People generally have little postoperative discomfort after surgery and begin functioning with their new temporary teeth almost immediately.
A Revitalized Smile — When we are satisfied that your implants have successfully fused to the jawbone, we will remove your temporary teeth and replace them with your permanent ones. These are generally made of stronger, more durable materials and fit the healed gum tissues more precisely. They should feel just like your own teeth. In fact, neither you nor anyone else should be able to tell that they are replacement teeth!
If you would like to learn more about replacing all of your missing teeth with dental implants, please contact us or schedule an appointment for a consultation. You can also learn more by reading the Dear Doctor magazine article "New Teeth in One Day."