My Blog
Posts for: November, 2013
By Orlando Dental Group P.A.
November 25, 2013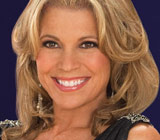 Everyone knows Vanna White as the elegant co-host of the popular game show Wheel of Fortune. But here's one thing you may not know: White is listed in the Guinness Book of World Records as television's most frequent clapper, with an average of 720 claps per show — that's over 28,000 per season! And here's something else: the star with the megawatt smile wore braces as a kid, and she's not too shy to talk about it.
"I only had to wear them for a year and it was a good experience for me," she told an interviewer for Dear Doctor magazine. But when it was time for her son to get them, White noticed something different. "We used to have those silver bands that went all the way around each tooth, and they don't have that anymore. It is fascinating to see how far they have come."
We're glad she noticed! In fact, orthodontic appliances have advanced a good deal in the past decade or so. Instead of using metal bands, brackets holding the wire part of braces are now typically attached directly to the teeth with a dental adhesive. For an even less obtrusive look, ask about using colorless brackets instead of metal ones — that way, the only part that's clearly visible is the thin wire itself. And in some situations, braces can be placed on the lingual (tongue) side of the teeth, making them all but invisible.
Another type of nearly invisible appliance is the clear orthodontic aligner. The aligner system consists of a series of precision-made transparent "trays" that fit over the teeth. Each tray is worn for a few weeks, and each moves your teeth by a small amount; together, they can help correct mild to moderate orthodontic problems. And the best part — they're really hard to notice! That makes them perfect for both adults concerned about a "professional" look, and image-conscious teens.
So if you're a TV star — or if you'd just like to have a brighter and better smile — it's never too late to get started! If you would like more information about orthodontics, please contact us for a consultation. You can learn more in the Dear Doctor magazine articles "The Magic of Orthodontics" and "Clear Orthodontic Aligners."
By Orlando Dental Group P.A.
November 15, 2013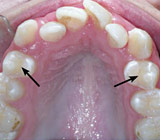 Not only can orthodontic treatment transform your smile, it can also restore function to your teeth and mouth that will improve both your oral and general health. But any treatment to straighten misaligned teeth requires careful planning. Depending on the exact nature of your misalignment, there may be some additional steps we would need to perform before undertaking orthodontic treatment.
One common need is space to help relieve overcrowding. To make room for tooth movement, often a tooth may need to be removed if the crowding is excessive. The most likely candidates are the first bicuspids, teeth located between the cuspids (or eyeteeth, located in line under the eyes) and the second premolar located in front of the molar teeth. The removal of these first premolars won't have a great effect on future form or function. Under the gentle pressure exerted by the braces, neighboring teeth will move and fill in the open space. Today's orthodontist goes to great lengths to avoid removing any teeth; in severe overcrowding, though, this is an acceptable way to create needed space.
Damaged teeth in need of replacement may also be removed before orthodontics and certainly more desirable — if any tooth needed to be removed, you would always choose a damaged tooth first. The object is to first preserve the underlying bone and close the space to avoid replacing that tooth or, if not possible, maintain the correct amount of space for any future restoration.
As living tissue, bone constantly reshapes in response to its environment. If it no longer senses a tooth (or the forces exerted by a tooth when biting or chewing), the bone will slowly disappear through a process known as bone resorption. To counteract this process, we may graft material (like processed donor bone) into the socket to encourage and maintain bone growth. This creates a platform for future tooth replacements like implants or bridgework after orthodontic treatment.
After orthodontics, it may also be necessary to install some type of "placeholder" (temporary bridgework or partial denture) in the area of missing teeth. Keeping the teeth from migrating into the space will improve the chances that any permanent restoration like an implant or fixed bridgework will look natural — as if it belonged there the entire time.
A complete dental examination will indicate whether any teeth need to be removed before undergoing orthodontic treatment. If necessary, taking this strategic step will help ensure we achieve the best result — a winning smile.
If you would like more information on tooth removal and other options to enhance orthodontics, please contact us or schedule an appointment for a consultation. You can also learn more about this topic by reading the Dear Doctor magazine article "Tooth Removal for Orthodontic Reasons."