My Blog
Posts for: April, 2013
By Orlando Dental Group P.A.
April 20, 2013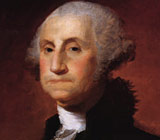 Everyone knows that George Washington wore false teeth. Quick, now, what were our first President's dentures made of?
Did you say wood? Along with the cherry tree, that's one of the most persistent myths about the father of our country. In fact, Washington had several sets of dentures — made of gold, hippopotamus tusk, and animal teeth, among other things — but none of them were made of wood.
Washington's dental troubles were well documented, and likely caused some discomfort through much of his life. He began losing teeth at the age of 22, and had only one natural tooth remaining when he took office. (He lost that one before finishing his first term.) Portraits painted several years apart show scars on his cheeks and a decreasing distance between his nose and chin, indicating persistent dental problems.
Dentistry has come a long way in the two-and-a-half centuries since Washington began losing his teeth. Yet edentulism — the complete loss of all permanent teeth — remains a major public health issue. Did you know that 26% of U.S. adults between 65 and 74 years of age have no natural teeth remaining?
Tooth loss leads to loss of the underlying bone in the jaw, making a person seem older and more severe-looking (just look at those later portraits of Washington). But the problems associated with lost teeth aren't limited to cosmetic flaws. Individuals lacking teeth sometimes have trouble getting adequate nutrition, and may be at increased risk for systemic health disorders.
Fortunately, modern dentistry offers a number of ways that the problem of tooth loss can be overcome. One of the most common is still — you guessed it — removable dentures. Prosthetic teeth that are well-designed and properly fitted offer an attractive and practical replacement when the natural teeth can't be saved. Working together with you, our office can provide a set of dentures that feel, fit, and function normally — and look great too.
There are also some state-of-the art methods that can make wearing dentures an even better experience. For example, to increase stability and comfort, the whole lower denture can be supported with just two dental implants placed in the lower jaw. This is referred to as an implant supported overdenture. This approach eliminates the need for dental adhesives, and many people find it boosts their confidence as well.
If you have questions about dentures, please contact us or schedule an appointment for a consultation. You can learn more in the Dear Doctor magazine articles "Removable Full Dentures" and "Implant Overdentures for the Lower Jaw."
By Orlando Dental Group P.A.
April 04, 2013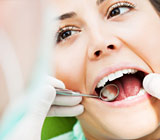 For decades, dental amalgam — the common "silver" fillings found in the mouths of millions — was the best option for restoring teeth after the removal of decay. This time-tested material is still going strong, but in recent years it's had serious competition from newer restoration techniques that use tooth-colored substances to make fillings. If you've heard of these new materials and want to know more, you can start with the following five facts.
1) Filling materials must match the properties of natural teeth.
When properly cared for, teeth are strong, resilient, and superbly functional. A good filling material should mimic the strength and durability of natural teeth under biting forces. It should also last a long time in the mouth, be relatively easy to place, and be economical in cost. In the past, amalgam fillings were the best choice to do the job. But that was then.
2) Tooth-colored filling materials offer similar benefits, plus aesthetic appeal.
Composite resins and dental porcelains are tough, durable materials that have been found to hold up well under years of use. Unlike traditional silver fillings, however, they match the appearance of natural teeth quite closely. This means that even a restoration in the front of the mouth may be virtually undetectable. And who wouldn't like that?
3) Tooth-colored resins may allow more conservative treatment in decay removal.
In order to keep them securely in place, amalgam (silver) fillings may require "undercutting," which removes more of the tooth structure. The process involved in bonding tooth-colored restorations, however, generally requires removal of less tooth material. This means a stronger base for rebuilding the tooth's structure.
4) Different treatment methods are used for different degrees of tooth restoration.
Small cavities can be treated by direct "chairside" techniques, which are very similar to the methods used for traditional amalgam (silver) fillings: in one brief visit, it's all done. When a greater volume of tooth structure must be replaced, we may be able to create a larger tooth-colored filling in a longer visit. Or, we might need to have a special restoration made to match your teeth; then, you can come back to have it securely bonded for a natural and long-lasting result.
5) Both amalgam and tooth-colored fillings are safe and effective.
Each has advantages and disadvantages in particular cases. But as the technology of tooth-colored filling systems evolves, some dental researchers have heralded the beginning of the "post-amalgam era." Are tooth-colored fillings right for your individual situation? We're the ones to ask.
If you would like more information about tooth-colored fillings, please contact us or schedule an appointment for a consultation. You can also learn more about this topic by reading the Dear Doctor magazine article "The Natural Beauty of Tooth-Colored Fillings."