My Blog
Posts for: August, 2012
By Orlando Dental Group P.A.
August 23, 2012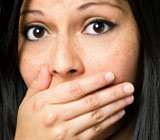 In today's fast-paced society, nearly everyone is looking for reliable solutions to resolve problems almost instantly. Unfortunately, in many situations, bad breath cannot be cured that quickly. This is why we want to provide you with the following rules of thumb for treating your bad breath.
Use a soft-bristled brush and a proper technique to clean your teeth at least twice a day, in the morning when you wake and before you go to bed.
Floss your teeth at least once daily to remove the bacterial plaque and food particles between your teeth, as these are two known causes of bad breath and tooth decay.
Clean your tongue, as it can often be the main culprit with too many odor-producing bacteria living on its surface. To clean your tongue, use a tongue scraper obtainable from a local drug or discount store, or brush your tongue with your toothbrush. Remember, a healthy tongue should be pink in color and not have a yellowish or brownish coating.
Chew a sugar-free gum that contains xylitol, a natural, sugar-free sweetener that actually has been shown to help prevent caries (cavities) while improving your breath.
Change your eating and drinking habits. Drinking plenty of tap water will not only keep your mouth hydrated (a dry mouth is another cause of bad breath), but it also can help prevent caries if you live in an area with fluoridated water. And by adding plenty of crunchy fruits and veggies such as carrots, celery and apples, you stimulate the production of saliva; thus keeping your mouth moist and rinsed out.
And last but not least, you can contact us today to schedule a consultation for an examination, cleaning and treatment plan. Or, you can learn more when you read the Dear Doctor article, "Bad Breath — More Than Just Embarrassing."
By Orlando Dental Group P.A.
August 01, 2012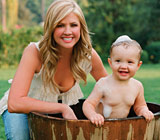 During Nancy O'Dell's interview with Dear Doctor magazine, the former co-anchor of Access Hollywood and new co-anchor of Entertainment Tonight could not resist her journalistic instincts to turn the tables so that she could learn more about a baby's oral health. Here are just some of the facts she learned from the publisher of Dear Doctor about childhood tooth decay, pacifier use and what the right age is for a child's first visit to the dentist.
Many moms-to-be and parents or caregivers of young children are surprised to learn that around age 1 is the ideal time to schedule a child's first visit to the dentist. This visit is crucial because it sets the stage for the child's oral health for the rest of his or her life. It can also be quite beneficial for the parents, too, as they can be reassured that there are no problems with development and that the child's teeth appear to be growing properly. And if by chance we identify any concerns, we will discuss them with you as well as any necessary treatment strategies.
Nancy also wanted to learn more about pacifiers — specifically, if it is a good idea for parents to encourage their use. Obviously, children are born with a natural instinct for sucking, so giving a child a pacifier seems totally harmless. Pacifiers definitely have some advantages; however, if used for too long — past the age of 18 months — they can cause long-term changes in the child's developing mouth (both the teeth and the jaws).
Another problem that parents and caregivers need to be aware of is baby bottle syndrome. This is a condition that develops in children who are perpetually sucking on a baby bottle filled with sugary fluids such as formula, fruit juices, cola or any liquids containing a large amount of sugar, honey or other sweeteners. It is important to note that a mother's own breast milk or cow's milk are good choices for feeding babies, as they both contain lactose, a natural sugar that is less likely to cause decay. However, if these liquids are placed in a bottle and a child is allowed to suck on it throughout the night, they, too, can promote tooth decay. The key is to feed your child properly while avoiding all-night feedings and liquids loaded with sugar.
To read the entire Dear Doctor magazine article on Nancy O'Dell as well as to learn more about a baby's oral health, continue reading "Nancy O'Dell — A life full of smiles." Or you can contact us today to schedule an appointment so that we can conduct a thorough examination, listen to your concerns, answer your questions and discuss any necessary treatment options.